The R5/FCX-3
Scan/Reset Tool for BMWs
Reads the BMW factory engine fault codes, resets check-engine,
service engine soon, oilservice and inspection!


R5/FCX-3 Plugs in under the hood
1987 to 2002 ( 2000/01/02 must check car)


R5/FCX-3-16 Plugs in under the dash
2000-2007 ( 2000/01/02 must check car.




Features:

Two year ranges available (see left)
Covers Diesel Models .
Displays all BMW-factory engine fault codes; allowing you to do your own engine diagnostic! A big step up from "generic" code readers.
Resets the Engine light (i.e. "Check Engine" or "Service Engine Soon")
Resets the Oilservice and Inspection lights, and service mileage (does not reset CBS.)
Very easy to use
Low cost ($149.99)*
Includes instruction manual and code chart

Available in three plug configurations (20 pin, 16 pin, and 20+16pin for mechanics) to suit your application.
Message to BMW owners:
If you answer "yes" to any of these questions, you need an R5/FCX-3!
Has your BMW ever stalled, been slow to start, idled poorly or hesitated during acceleration? Has the Engine light (also known as the "Check Engine" or "Service Engine Soon" light) come on when everything seemed fine? Have you ever received a costly repair bill and wondered if the repairs and charges were legitimate?

Without the R5/FCX-3 scan-reset tool from Peake Research, you may be forced into accepting what the repair/service center tells you and charges you. Wouldn't it be great to know exactly what's wrong before you bring your BMW in for a repair? Or, better yet, if you're handy with tools you can avoid the repair shop altogether- run your own diagnostic and fix the problem yourself! That is, if your car even needs a repair. Read on..
What is the Engine light trying to tell me?
The BMW Engine light can mean any number of things. Sometimes it's alerting you to the real need for a repair, so the Engine light is something you should never ignore. But quite often it is merely indicating one of the many, simple (topped off your coolant, loose gas cap or oil cap) type problems. Imagine paying a hundred dollars to a repair shop to tighten your radiator cap and reset the Engine light. Without the R5/FCX-3, you're stuck staring at your Engine light until you're in the mood to see the mechanic who can reset it.

Are you starting to see that the R5/FCX-3 makes great financial sense? There's more..

Routine Maintenance Lights
As an added benefit, the R5/FCX-3 includes the ability to reset the oilservice and inspection, routine maintenance lights, and the maintenance mileage countdown indicator on most 87-04 models. Considering that an oilservice for a BMW can sometimes equal the price of the R5/FCX-3, this feature alone is worth the price of the R5/FCX-3. Note: People often confuse the SI lights "oilservice" and "inspection" with the CBS system, which does not have an oilservice or inspection light. It should be noted that on many 05 and later models the R5/FCX3, while fully able to read codes and reset the Service Engine Soon light up to 2007¹, is unable to reset the CBS indicator. Check your 05+ BMW (or 745).
Indispensable for Mechanics and BMW owners:

compact size
Very easy to use
inexpensive
available for most BMWs from 1987 to 2007¹*.
durable enough to withstand daily use by professional mechanics.
According to our toughest critics (BMW mechanics), we have succeeded with flying colors! At this price, every mechanic can afford at least one.
*Adaptor: No longer sold
Simplified Tool Selector Chart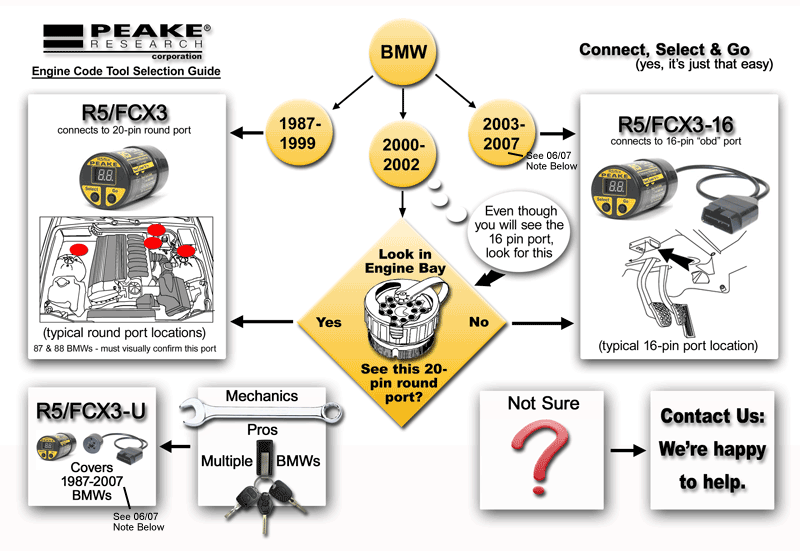 ¹2006 / 2007 Compatibility: The R5/FCX3 has partial compatibility with 2007 and 2006 BMWs. Please click here for more information.